Looking for that perfect venue for your wedding in Surrey?  An Addington Palace wedding in the glorious British countryside is as perfect as you'll get.
A beautiful Grade II listed country mansion near Croydon in south London, England is set in 163 acres of grounds.  With the marquee you'll have no problems accommodating your guests if you are planning a large Asian wedding, Hindu marriage or Indian reception party.
Addington Palace Wedding Venue Pictures by Bipin Dattani
Palace's grounds offering countless photo opportunities for wedding photographer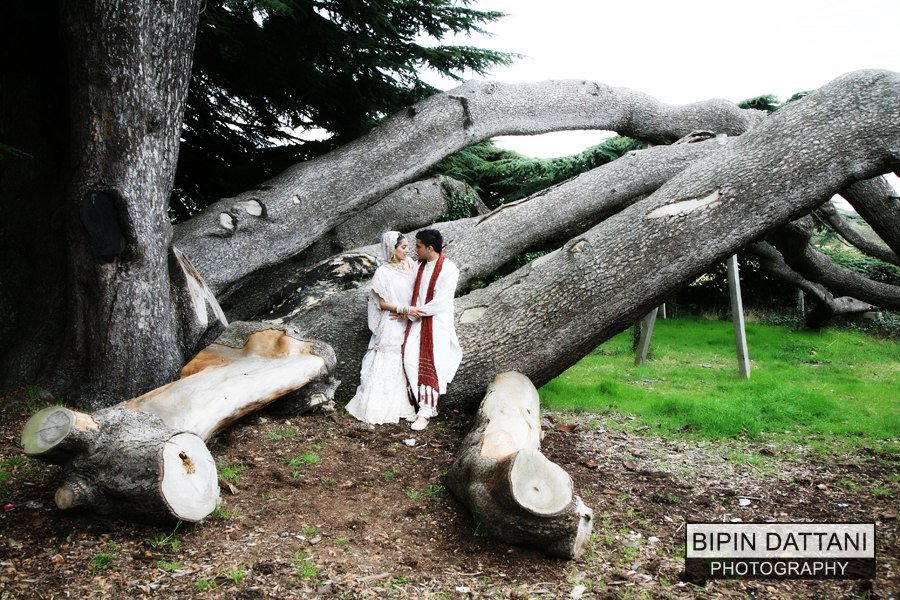 A happy couple portrait photography in the beautiful grounds at Addington Palace wedding venue in Surrey UK #wedding #addingtonpalace #palace #bride
 The Royal Marquee, a permanent building with chandeliers, accommodates large number of guests from 150-750. This makes Addington Palace wedding venue perfect for Asian and Indian weddings.
History About Addington Palace Wedding Venue
Addington Palace is an 18th-century mansion in Addington nestled within 163 acres of exquisite pastoral beauty near Croydon, Surrey in south London area. It was erected on the foundations of a manor house from the 16th century. It is well known for being the summer house of the Archbishops of Canterbury between 1807 and 1897.
Now in the 21st century,  the opulent mansion with beautiful historic rooms is available for wedding and reception event hire.
Contact Addington Palace Wedding Photographer
A superb venue deserves a professional Addington Palace wedding photographer to capture timeless and authentic photography of your special wedding day.
For wedding photography costs and prices for your special day at Addington Palace contact Bipin Dattani on 07930 324833
Bipin Dattani Wedding Photographer
28 Hillview Rd, Pinner HA5 4PA
07930 324833
JJ6G+2R Pinner