Beautiful Indian wedding photography to reflect you and your wedding day. For couples who love photography,  stunning natural photos captured unobtrusively in a non cheesy style to give you images that will capture how you felt on your special day. Capturing the moments that matter! Experienced photographer with over 800 wedding events shots the using the latest digital cameras and lover of natural light to capture creative photography.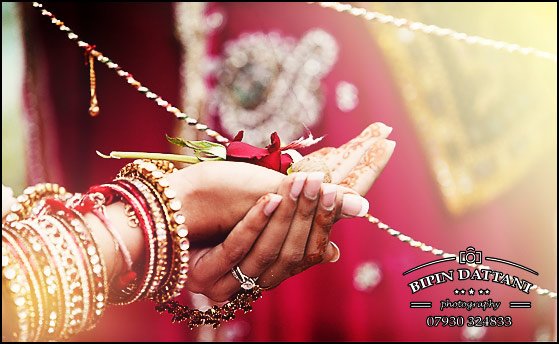 Indian Wedding Photography By Bipin Dattani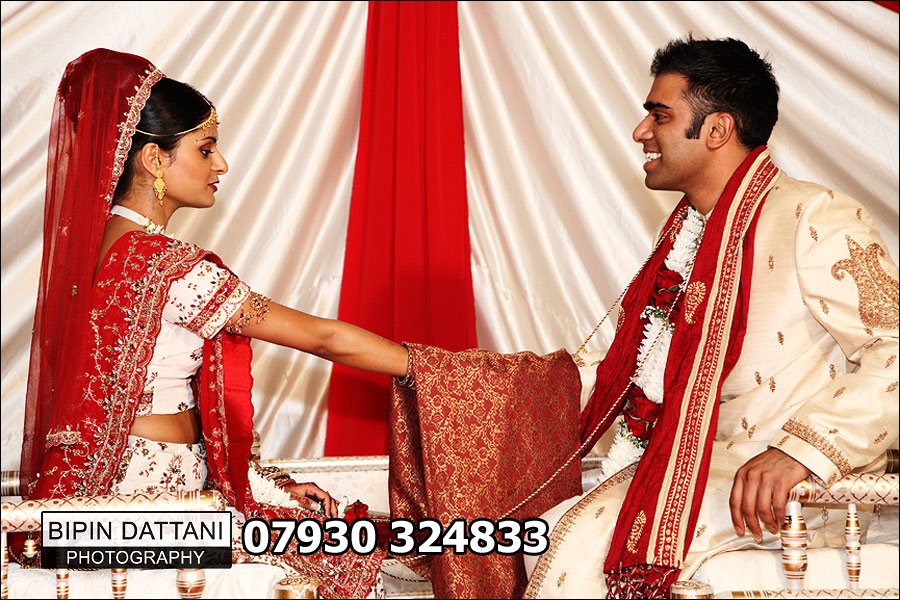 Ask any discerning Indian bride or groom if they or their parents are organising a standard wedding and if they want ordinary pics from their special day. When marrying the bride and bridegroom will go an extra mile to make their day extra special and so must we to capture the stunning pictures that makes your day perfect.
At Bipin Dattani Photography, we specialise in Indian Wedding Photography. Over the years, we've photographed all types of Indian Weddings – from the very traditional to fusion weddings that blend two cultures and traditions.
When choosing your ideal wedding photographer, look for someone whose portfolio speaks for itself and who has impressive reviews and is high reputation with former clients. Bipin Dattani has built his business on providing to quality photography and 5 star customer service, that his previous clients are happy to recommend him to their friends and family.
Weddings are all about the little details, every ceremony serves a different purpose and Bipin's experience and understanding of the Indian culture allows this Indian Wedding Photographer to capture the feel and emotion of the events,  producing photographs of these moments worth remembering. On this website www.bipindattani.com there are lots of photo examples, however if you wish to browse the albums portfolio of the gorgeous Indian wedding ceremonies we've photographed over the years call 07930 324833 to make an appointment.
Cost of Indian wedding photography packages depends upon several products. Wedding photography services are a bundle of products.
Indian Wedding Photography Packages and Special Offers
Price of Indian wedding photography packages depends upon several factors, that's why every photographer offers different service packages and special offers for making the booking. 
Every photography service provider will offer its own prices based on their experience, expertise. A seasoned photographer will find the best camera angles and enhance every scene in the viewfinder with their creative intuition. Also like any company other costs associated of running a business, from hiring staff, the premises, digital cameras and lenses used and the work flow of every photographer is not the same in the post processing to producing the end product.
Wedding day photography package consists of Natural Candid Photography only or combined with videography.   Further, videography has two branches  – traditional videography or Wedding Cinematography filmed using digital 4K cameras, sometimes with drones and a team of videographers. 
Pre wedding photographic coverage is an additional price. Here again couples will have the option for still photography and Videography or just one of the services.
Then there are wedding albums based on number of pages, amount of air-brushing and photoshop work, leather covers and prices associated with the album maker.
Each Indian photographer will give the scope of customisation any of the wedding packages on their price list. Adding or taking away options will invariably affect the total price of the Indian wedding photography packages.
So as you can see, there is no standard fixed price of Indian wedding photography packages. Creating a custom bespoke package changes the costings.
Every bride & groom should make their own cost comparisons and must choose wedding photography package as per the budget. Choose the photographer who gives them the best value. There are wedding photography packages for every kind of Asian couple.
What influences you for buying an expensive wedding photographray package.
In commercial transactions, the quality of goods and services increases as the prices increase. Generally the more one pays, the better the product as summed up by these quotes:
Kurt Vonnegut — 'In this world, you get what you pay for.'
Warren Buffett — 'Price is what you pay. Value is what you get.'
Starting Indian Wedding photography packages and add-on the services that you may need.
(Wedding Day)
Our 1 day wedding package provides you with 1 professional photographer for 8 hours on your wedding day capturing all the moments naturally and creatively. The captured images will undergo post processing and the photographer will present edited high resolution photos for you to download and print your images. This starter package is perfect for your wedding ceremony.
Add-on services:
Extra hours for reception and any other key events on the same day one day.
Coverage of pre-wedding event photography options: Maiyan, Haldi, Mandvo, Pithi, Ganesh puja / Grah Shanti, Henna, Sangeet or Jaggo starts from 2 hours of coverage with one photographer.
Guest Book
Photo book where guests can write  messages and congratulations for the bride & groom.
Parent Album
A duplicate of the wedding album for the parents of the bride and groom.
Two Photographers Package
Bipin and his associate work together as a team. One of the nice things about working with us is you can get two different perspectives from two photographers at one wedding day shoot. One can be photographing the bride's pre-wedding portraits whilst the other cameraman can be capturing the groom's arrival or Baraat. Bipin highly recommends this for larger events especially wedding and reception on the same day as he can concentrate on his unique candid style whilst the assistant can handle the guest photos. A second photographer ( an assistant and/or an additional photographer ) also allows us to capture more angles, more of the family and guests at the ceremony and reception.
Special Pricing for Indian Weddings
We realise that Indian Wedding Photography requires special pricing, as most are multi-day events. Indian marriages are entwined with so much tradition, so many formalities and rituals … No two weddings are the same because no two couples are the same. We have special packages that cater for Indian weddings that include coverage for Pre-wedding Portrait shoot, Mehndi parties, Sangeet/Sanji night and of course, the exiting wedding day. Any additional coverage for other Indian Wedding Ceremonies,  functions or pre-wedding events we have hourly charges so you can budget to the photography rates. Is your requirement is for All Day Packages, Photo and Video Package, Photography and Videography Package deal, Last Minute Availability lets talk on 07930 324833 for these bespoke Indian wedding photography packages.

indian wedding photography videography packages prices
What is the rate of Indian wedding photography?
Prices are  typically based on the number of hours.  If you hire a local photographer you can get Asian wedding photography packages for around £2100 to £2500 for two photographers working as a team.