Wedding Photography FAQs
All of the following are my opinion and advice on Indian Wedding Photography which encompasses all Asian Weddings. This may be of  use for brides and grooms getting married in the near future or budding photographers too looking for tips on how to shoot Indian wedding ceremonies – tips given by a Bipin Dattani an best Indian wedding photographers with over 10 years experience of photographing shaadi desi indian marriages.
How much do wedding photographers charge?
The average cost of a wedding photographer will depend on the skill and experience of the photographer, together with what is included in your wedding package. The shooting time (for indian and asian wedding the number of days for pre-wedding events), travel time to the venue, pre-wedding portrait shoot, the type of wedding albums offered, the post processing time after the wedding for air brushing and enhancing the wedding photos are just some of the considerations that will influence your cost. This is why wedding photographers do not have a set price or charges. 
Who owns wedding photography copyright?
The Copyright Act sets out the rules about copyright ownership and as I understand it under these rules the person who takes the photograph is generally the owner of copyright. So, the copyright owner of wedding photos is the wedding photographer. However most photographers will give you license to print your photos for personal use only.
What do wedding photographers use to edit photos?
The standard software of picture editing and enhancing is Photoshop or Lightroom. Each photographer will have their own preferred way of working or workflow when using these photo editors. To use them effectively they need to be learned and practiced only then will they give the best results for wedding photographs.
How much does Indian wedding photography cost?
Wedding photography coverage cost can vary greatly. It'll depend on a few things, and some points to consider:
Duration of coverage (the number of  days, hours and events the photographer has to capture)
Location and City of the marriage  (how far does the photographer to travel? If far, the hotel accommodation stays and travel costs come into play)
Quality of the photographer (experience, commitment on your day, photography qualifications, artistry,  technical ability
Coverage expectations (use of cranes, drones, number of  photographers at the wedding  – second shooter and/or a third shooter too)
Post processing work for air brushing and digital enhancement of the photos. Only a select few photos or all the images for the wedding album or all the images captured.
How much the photographer has spent on the cameras and lens. Some will use only the best professional DSLR's and fast lens (Canon 85mm f1.2, canon 35mm f1.4, or canon 24-70 f2.8) which cost more than standard kit lenses
Reputation and demand for the photographer
Indian wedding generally run over a few days, so only you and your allocated budget  can decide what you need to be captured for prosperity from these functions (engagement, Sagai, pre wedding photo shoot, mehndi ceremony, sangeet function, chunni ceremony, sanji garba night, pithi and grah shanti, wedding reception) that will not be repeated again.
Sorry to be vague, as you see no two wedding are the same. As such, costs vary from Indian wedding photographers to photographer. Best to call on 07930 328833 for a Indian wedding photography costs and quotation. 
Where do wedding photographers print their albums?
Over the years I have been asked numerous time where do get you wedding albums printed? For matted, traditional type heirloom albums I have only use professional labs to do my photo printing. In fact the surprising  fact was that I give my printing to an English photo lab and not local Indian printers as I find they would give me better colours of sari's and Indian wedding outfits. This is where the professionalism come in.
Now with storybook wedding albums I have selected an album printers from the many who want my trade.  I trust my printing to them because they offer immaculate photo storybook albums.
I now also offer an album design service with your digital files and give you an awesome album in return. Interested in this service? Enquiry about prices by calling 07930 324833.
Only the best will do.
How many wedding photographers should I interview?
Can I ask how many wedding dresses or outfits did you see before you picked the ONE.
There are so many wedding photographers in your city, some will be recommended by friends and family. Only you can decide which photographer is right for you. You can see and interview only one or two before you book one of them or end up seeing quire a few.
As a seasoned wedding photographer with many years of experience operating in London and some destination weddings, I have found that people get confused when they see lots of photographers as each one has some different they offer. So I suggest do not see more that five.
Pick a photographer whose work you like, are comfortable with, feel is genuine and most importantly can work with YOU to give you the pictures you deserve from your special wedding day.
Do You Offer Indian Wedding Photography and Videography Packages?
Every time was receive an enquiry we get asked do you offer video too?
We specialise in Asian and Indian wedding photography. When shooting weddings we work with some of the most talented videographers. We  am happy to give you recommendations for your Indian wedding photography and videography.
How Far In Advance Do We Need To Book You For Our Wedding?
We only take a limited wedding photography assignments in a calendar year. This is so that we can provide the high level on service and photography every bride and groom deserves. Once toy have set your date it is  recommend you contact us as soon as possible to avoid disappointment. We can only shoot one wedding a day. We have certain dates available for 2018, so although this is 2017, do not wait too long.  
Do You Photograph Destination Weddings?
While Bipin Dattani Wedding Photography is based in London, however we serve clients all around the UK and world. Yes, we do offer destination wedding photography packages. Our rates and costs depends on your specific requirements. Contact us by here to discuss further and we will be happy to give you a quote.
Do I Have To Pose? I Hate Posing For Photos.
Our style is all about capturing the real wedding you have planned. The joy and the beauty of your wedding day is enhanced when the pictures are captured in a natural style and that what Bipin Dattani Photography provides.  When do photograph family group photos is the only time we a little time, but this too can be organised quickly as your your requirement.
Don't Forget the Detail Pictures
Don't Forget the Details!  
It's important to remember that many of our brides and grooms have put a lot of time and effort into small details for the wedding decor to make their wedding unique.  For some wedding photographers it is easy to just focus on the bride & groom, the guests and the generally the bigger events throughout the day, however, do not forget to photography the detail shots.  For example, at a recent indian wedding reception at Hilton London Wembley the bride asked me if I had captured all the table numbers as she has spent time researching special quotations to  printed on them.  These photographs the details help tell the story of their day nicely when incorporated into a blog post or the wedding album.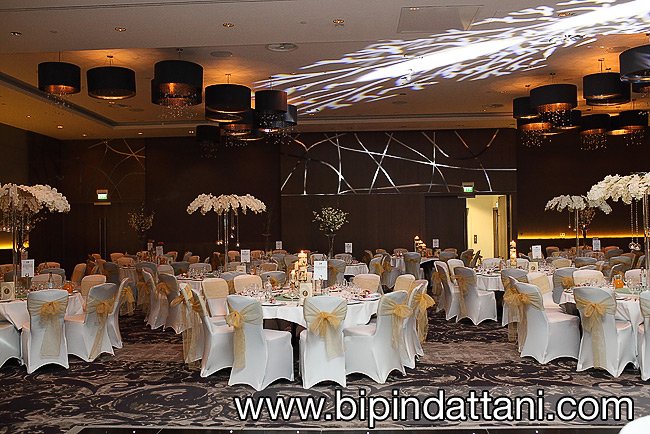 How long does it take before we receive our wedding photographs?
Your digital files images will be ready for collection very very fast, 4 or 6 weeks after the wedding date.  Yes, unlike some other photographers, we process your wedding photographs fast so you can enjoy them soon after your wedding day.
Are our digital wedding photo files watermarked?
Oh god, they are not.  The high resolution files that you  receive will not bear any watermark or studio logo so you can happily print your wedding photos at your hearts content.