Ketanbhai Mehta Hindu wedding priest performing the marriage ceremony in Sanskrit, Gujarati and English at Nisha & Vinesh's  fantastic wedding at the stunning Hindu temple,  Shree Swaminarayan Temple – Dharma Bhakti Manor (Stanmore), northwest London England
Just like other vedic Hindu priests,  shastri Ketan Mehta a marriage officiant  from near by Harrow, recites holy wedding reverses as per the original Indian traditions.
Ketanbhai Mehta Hindu Wedding Priest Taking Selfie with Bride & Groom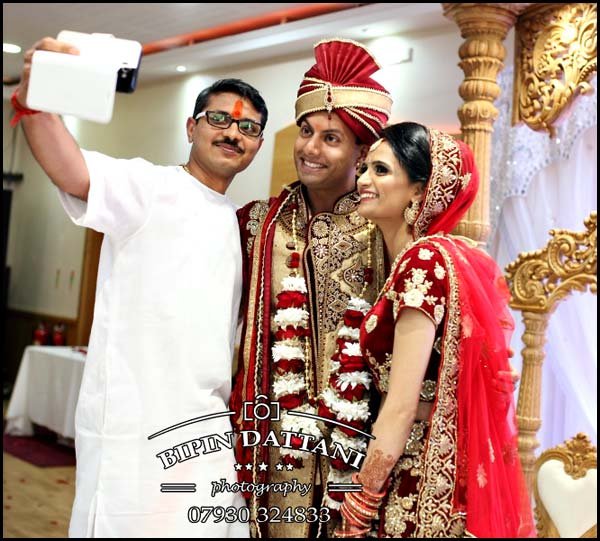 Ketanbhai  taking selfie with a smartphone with the happy bride and groom after the short, sweet, silent wedding ceremony ready for uploading to Facebook & Instagram for sharing photos.
Natural candid wedding photographs captured at Stanmore Temple.
Bipin Dattani Photography
28 Hillview Rd
Pinner
HA5 4PA
07930 324833