For the religious brides and groom's Indian temples in London is always a popular venue to get married and say 'I do".  These temples is where I have had the privilege of photographing tradition rituals of Hindu & Sikh weddings. Otherwise if the wedding venue is local and nearby to a temple, after the wedding ceremony the married couple will request that we visit the temple for post wedding couples portraits and photos. 
These temples are popular with the families as all have dedicated in house catering and kitchen facilities, so the prasad, wedding breakfast afternoon meals freshly prepared on the site.  What better venue than a temple for a soul-stirring wedding ceremony!
Amazing Indian Temples in London
As the Indian community had grown in numbers, so has the places of worship, satsang, religious and cultural events. Some brides and groom's also choose to have their wedding ceremony with special indian wedding priests at these religious venues. Below is a list of some of these amazing Hindu Temples in London, you may want to visit or even get married
Baps Shri Swaminarayan Mandir London, UK.
A masterpiece of exotic design and workmanship, a Hindu temple built entirely using traditional methods and materials –  marble and stone. Close to the North Circular and close to the temple of England's football venue "Wembley". Popularly also known as the 'Neasden Temple'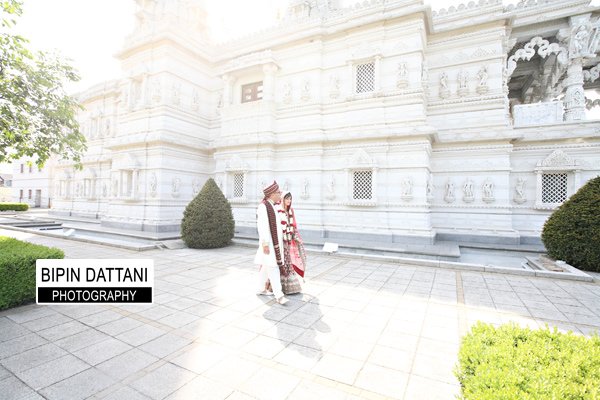 Neena and Purav's wedding was full of fun, laughter, traditional Hindu ceremonies.
Hindu Temple Ealing Road, Wembley 
For local Sanatana Dharma Hindu community this "All inclusive Hindu temple" is place of worship on Ealing Road in Wembley, London. The magnificent temple with superb carvings and is one of the best Sanatan temples outside of Indian and luckily for us Londoners it's here in capital city. Built according to the scriptures of the Hindu holy texts with no steel support and entirely of Indian hand carved limestone.  
Shree Swaminarayan Temple – Dharma Bhakti Manor Stanmore
This beautiful mandir is popular with local Harrow, Stanmore, Edgware, Kingsbury Hendon brides and grooms as family home is generally nearby.  The bright wedding hall on the first floor is ideal for traditional Hindu ceremonies, and once the wedding ceremony is complete the grounds are ideal for the couples portraits.
The are numerous Hindu wedding ceremonies held at the Shree Swaminarayan Temple – Dharma Bhakti Manor in Stanmore.
Wood Lane, Stanmore, Middlesex, HA7 4LF
Shree Kutch Satsang Swaminarayan Temple
Westfield Ln, Kenton, Harrow HA3 9EA
Shri Swaminarayan Mandir, Willesden, London
It is the first Swaminarayan Mandir to be opened in the city. Located at 220-222 Willesden Ln, London NW2 5RG this is a venue I have photographed lovely simply organised gujarati weddings.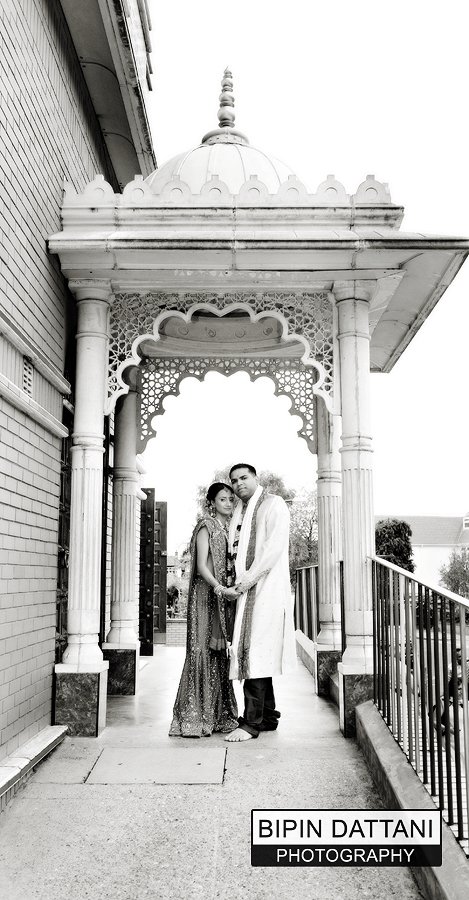 Address: 220-222 Willesden Ln, London NW2 5RG
Shree Swaminarayan Mandir Kingsbury
The newest temple here on Kingsbury Road, London NW9 8AQ
Oshwal Temple / Mandir 
This magnificent and traditional Jain Temple is located within its own landscaped gardens and forms part of the Oshwal Centre,  at  Coopers Lane Road, Northaw, Hertfordshire, EN6 4DG. A focal point for Jains all over the country, with the large function room for weddings the terrific temple  lends itself for photogenic wedding photographs for the couples.