Pre Wedding Photography packages are included in my wedding photography price list. When Anjali & Priyank confirmed their wedding photography booking in November, this cute couple did not want a winter photo shoot and requested the engagement shoot to take place in February or March.  Hoping for warmer weather and better light for natural, candid, modern, beautiful photography to celebrate their engagement.
As I am based in London, I normally do my professional couple photoshoot in London.  I am experienced of the best places in Central London to photograph, and give the couple photo memories of this special moment in time. 
However, in this case Anjali requested we go to Windsor as she wanted something different, not the normal London tourist sites. Windsor's primary attraction is the stunning Windsor Castle – the largest and oldest inhabited castle in the world and the Queen's favourite weekend home and a 'must see' for everyone's list.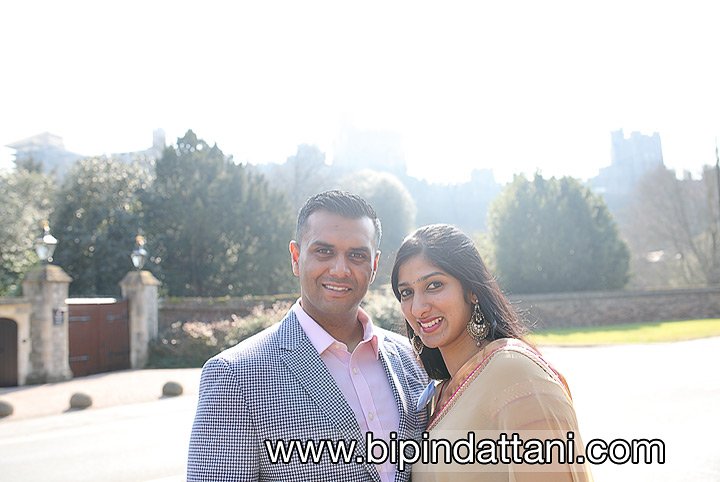 Asian Engagement Pre-Wedding Photo Session 
Most of the pre wedding photo sessions booked as part of the wedding photography package are done in on a weekday, however when possible I will work with the liaise with the engaged couple and arrange a weekend date so they do not have to take a day off from work. This is exactly happened in Anjali & Priyank's case.
We arranged a Saturday but the forecast was rain the whole day, so finally time was running out to get the photo book printed for the wedding day, we did the engagement photo shoot of a Thursday.
We had originally agreed to meet near Tower Bridge in Central London, so the engagement couple photoshoot would be near River Thames and City Hall, the official building of The Mayor London.
We met at her home is Southall and Priyank had come down from Leicester the previous night. We headed on the M4 to the town of Royal Windsor in Berkshire in Priyank's company car, a beautiful white Audi. And I became an honorary Windsor photographer for the day.

Romantic Couple Photoshoot In Saree
A pre wedding engagement photography shoot has become an important part of every wedding photography job I get hired to shoot. I hope you enjoy these romantic couple pictures in saree.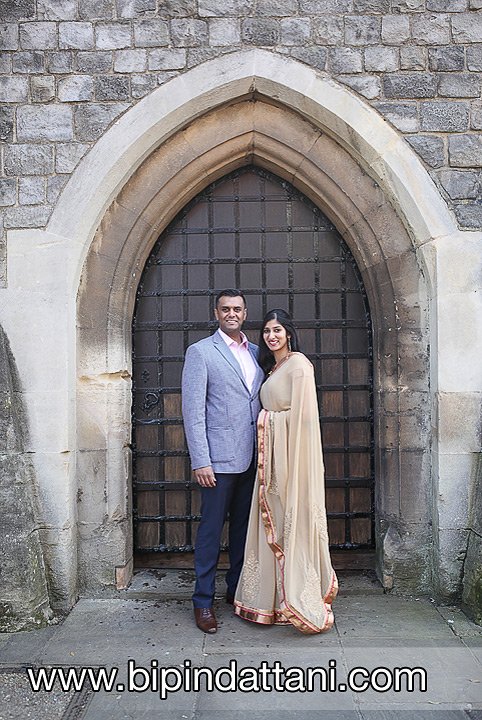 Couple Portrait Photography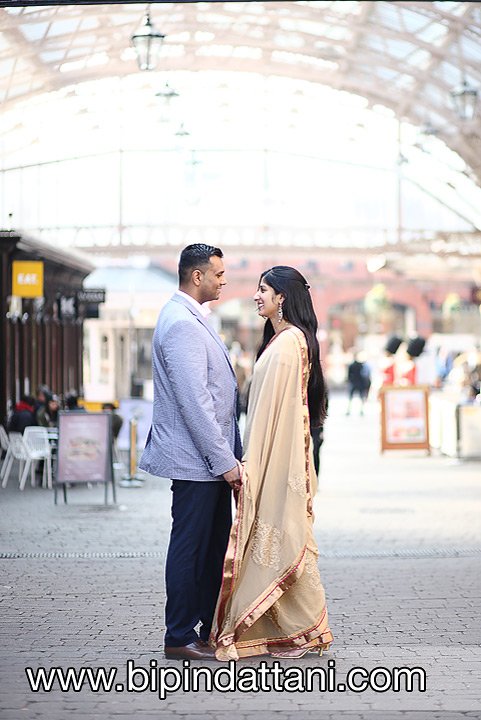 Professional couple photoshoot
Outdoor Portrait Photographer – Engagement Photo Shoot
We had a great day and warm for this time of the year if we stayed in the sun. This suited Anjali as she had come dressed in a beautiful saree.  When I asked her why she chose a saree, she said "a saree it was her signature outfit".  It was great to hear a young London born Indian lady proud of her South Indian heritage. She wanted romantic couple pictures in saree!
We had a great time walking, talking and capturing these fantastic pre-wedding photographs around Windsor. We even joked if the Queen would invite us for tea when we got close to the castle.
We managed to find a red phone box normally associated with London  and used it in a couple of images, followed by going to Windsor Promenade and River Thames where whilst feeding the ducks one them tried to bite Anjali's hand too.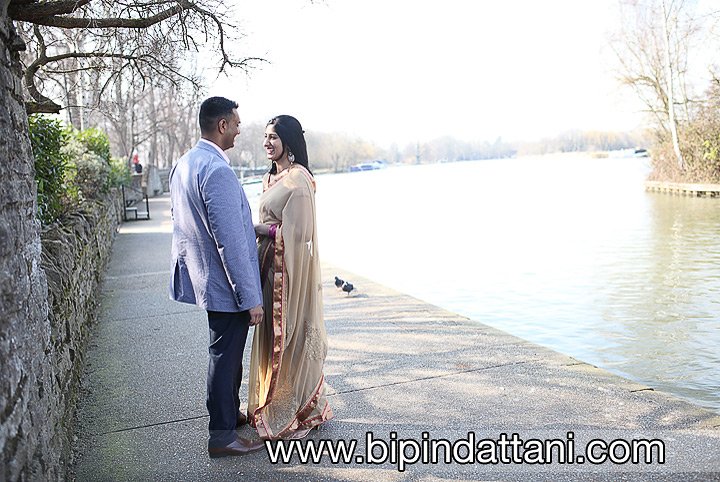 Romantic couple photoshoot in saree
Fun couple engagement photography session on River Thames
All in all a great session and fab photos are the result. I hope this has given some of Indian couple photoshoot ideas, even when you want take the pictures in a Saree.
London based photographer offering romantic photo shoot for couples. Available for engagement photography, pre-wedding shoot, surprise proposal, secret proposal, elopement photoshoot.
For more on a bespoke personalised couple photography session cost, quotation and prices just press the button.

Bipin Dattani Photography
Wedding photographer in Pinner, England
28 Hillview Rd, Pinner HA5 4PA
07930 324833