Call it "pre wedding photography", "pre-wedding photo shoot", "a couples shoot" or "an engagement shoot", it's all a same concept but people call it by various names.
This photo session will help you to relax and feel more comfortable in front of the camera of a professional photographer. If you are concerned about being photographed or how your photographs turn out, I may be able to offer tips and advice to making the images look better. After all, I want to make sure you end up with amazing pictures that catch the eye.
We would meet up for a portrait photo session in London for about an hour, or longer if you wish as per your chosen package. The aim is to create stand out images for you.
Other reasons couples have pre-wedding shoots?
There is more time for creative portraits at great locations in you casual cloths as opposed to your wedding attire.
You are in love and want great images of this special time in your lives.
Be able to create personalised "save-the-date cards", have a unique photo album guestbook created to use on your wedding day or use images for handmade wedding favours.
These make great prints and canvases to display in the new home you set up together. As they are taken in casual clothes they do not go out of fashion, especially if some are in black & white.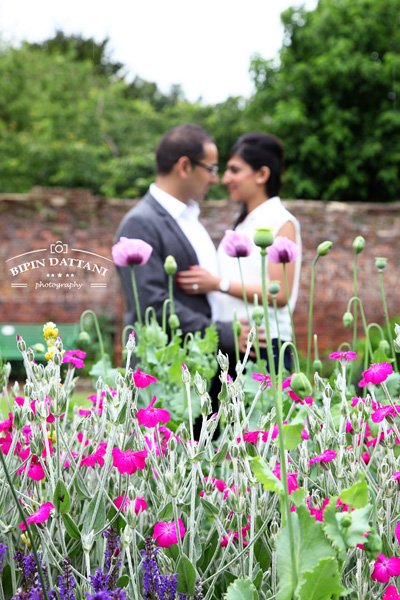 Fancy something different for your Asian pre-wedding photography?
Our Indian & Asian pre-wedding photography sessions have become very popular with couples that are engaged to get married. Some want something away from Central London locations such as Tower Bridge, London Eye, Somerset House or Regents Park as their friends have already done this.
Thus locations such as Brighton for sea-side, historical places such as Cambridge & Oxford, and even abroad to Paris, Barcelona, Madrid, Marrakech are becoming a common destination place too. We are flexible and willing to travel, it depends on what you want – luxury or normal and on your budget.
Call today on 07930 324833 to discuss your shoot or click here for other asian wedding services