Indian wedding photographer Bipin Dattani has been providing documentary and creative wedding photography for the happy couple on their special wedding day for over 18 years.
I specialise in photographing all types of Asian weddings including Hindu, Sikh, Sri Lankan, Tamil, Hindu Punjabi, South Indian, and mixed faith marriages.
My photographic style is a mix of artistic portrait and candid shots. With many years of experience providing a high quality of work for your total peace of mind.
Like most local London photographers, no matter how many Indian weddings you've attended before there are some things you just don't find out about until the wedding day. That's the beauty of being an Indian photographer, you get to capture the best snaps that the happy couples will look back to remember their special wedding day.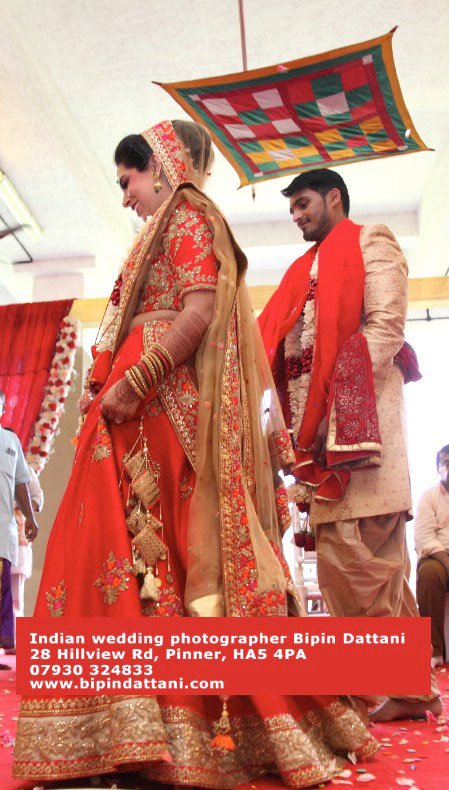 Wedding Photography in London
Once you have booked the date and venues for your London wedding events. One of the 1st stages in your planning should be hiring a professional photographer who is familiar with the Hindu, Sikh, Sri Lankan, Tamil, Indian rituals and ceremonies. Generally, Indian and Asian weddings present themselves with a few logistical difficulties that need to be taken into account, and so booking an experienced professional London wedding photographer is necessary.
For his London photography clients, he loves to use the capital city's top sites that are world famous whenever possible, sights travellers and locals Londoners visit. It could be for the post wedding couples portraits or a pre-wedding photo shoot.
List of  Top London Sights Wedding Photographers Use For Photography
The British Museum ( A historian's treasure trove )

Tower of London ( Medieval castle housing the Crown Jewels )

Big Ben ( London's iconic national timepiece )
London Eye ( Iconic riverside observation wheel )

Buckingham Palace ( Home of the British Queen & State Rooms )

Tower Bridge ( Iconic Victorian turreted bridge )

Hyde Park ( Acres of greenery in Central London )

St. Paul's Cathedral ( Iconic cathedral's churchyard & garden )

Palace of Westminster ( Iconic home of UK parliament )

The National Gallery ( For viewing Major art and paintings )

Natural History Museum ( Natural phenomena & hands-on activities )

Westminster Abbey ( Gothic church & site for coronations )

Trafalgar Square ( Nelson's Column, fountains & lions )

Victoria and Albert Museum ( World-class decorative art & design )

The Shard ( 306m-high glass & steel tower with views )

Oxford Street ( Well-known destination for shopping )
Photography Prices and Costs in The UK
Prices range from £475 for small registry office weddings to £1000 for larger weddings. Expect to pay about £1500 for a very experienced Indian wedding photographer for peak summer Saturday and Sunday dates and over £2200 for a package that includes a pre-wedding shoot and a wedding album.
For packages to include wedding and reception coverage or videography, contact the photographic studio for bespoke package costs.
3 Tips to keeps Indian wedding photography prices low in UK
The cost of photography may be the most important factor for many Asian couples. If you are on a  budget, my best tip for any bride looking to find an affordable wedding photographer in London or anywhere around the UK.
Can you reduce the number of events. Asian weddings are famous for or can do without the services of experienced photographers. Decide what is the key function you wish to have the best photography and hire a professional photographer for just that day.

Compare the prices by doing a Google search for top local photographers near me first, the less the photographer has to travel will equate to less cost to you.

When getting married on a weekday or out of season winter months, then their prices are likely to include a discount for your wedding date.
Indian Wedding Photographer Bipin Dattani Travels For Assignment Across the UK
Although a Londoner, Indian Wedding Photographer Bipin Dattani will travel for wedding assignment bookings across the UK. Cities that have a large number of Indian, Sikh, Hindu, Tamil and South Asian people in the population. Namely, Leicester, Birmingham, Nottingham, Milton Keynes, Slough, Wellingborough, Croydon, Windsor, Watford, Ilford in East London.
Whatever or wherever your wedding venue is, a luxury London hotel, an idyllic country house in the Surrey countryside or a rustic Italian castle villa. All guests will certainly appreciate the warm welcome organised by the bride's family and will be overwhelmed from the first minute they start living your wedding day experience.
London venues that would be perfect for an Indian wedding
Are you having an Asian wedding in London and looking for a majestic wedding ceremony and reception venue in London? Here is a list to help you choose the best:
Cavendish Banqueting Colindale · Meridian Grand · De Vere Grand Connaught Rooms · Clay Oven Banqueting Suites · Stanmore Temple · Hilton Park Lane · Sheraton Park Tower · The Grosvenor Hotel · The Dorchester · Hedsor House · Syon Park · Kew Gardens · The Ned · Dartmouth House · Natural History Museum · Royal Horticultural Halls · Alexandra Palace · East Wintergarden 
Top Country House Asian Wedding Venues UK
Braxted Park · Sedgeford Hall · Colshaw Hall · Warwick House · Bignor Park · Holbrook Manor · Pauntley Court · Chyknell Hall Estate. Hedsor House · Parklands Quendon Hall · North Mymms Park · Addington Palace
Are you planning to get Wed in London and looking for an wedding photographer?
London wedding photographer loves capturing premier quality images full of emotion and spirit-filled moments of weddings. Natural wedding photography for fun-loving and creative brides and grooms. I unobtrusively capture beautiful wedding photos for couples getting married. When you want to capture your special day, events and engagement let's talk. 
From intimate small weddings to grand formal affairs that cover every tradition, get inspired with real wedding photos. These real couples said "I do" in serious style.