Wedding photography can be difficult and stressful for someone shooting their first wedding. These are simple wedding photography tips for beginners to follow. They can be used for Asian weddings, Church ceremonies, garden and beach wedding events. Practically any other wedding day shoot modern brides and grooms can think of today.
Who am I? I am Bipin Dattani, a professional wedding photographer in London England since 2005. Over the years I have had the honour of photographing thousands of engagements and events associated with Indian weddings.  And I get asked to oftrm "How do I get good at wedding photography?"
What Is Wedding Photography?
When it comes to capturing the beautiful moments of a wedding day, wedding photography is an art and a profession rolled into one. It's the task of immortalising the joy, love, and unforgettable moments shared between the couple and their loved ones. A wedding photographer is trusted with the responsibility of turning these moments into cherished memories.
Why Is Wedding Photography Important?
Wedding photography is vital because it captures the essence of one of the most significant days in a couple's life. These images become timeless treasures, preserving memories for generations to come. A professional wedding photographer plays a crucial role in making sure every detail, from the bride's dress to the table settings, is captured in stunning photographs.
Once you become more proficient, you too can be the professional photographer every bride near you want to hire.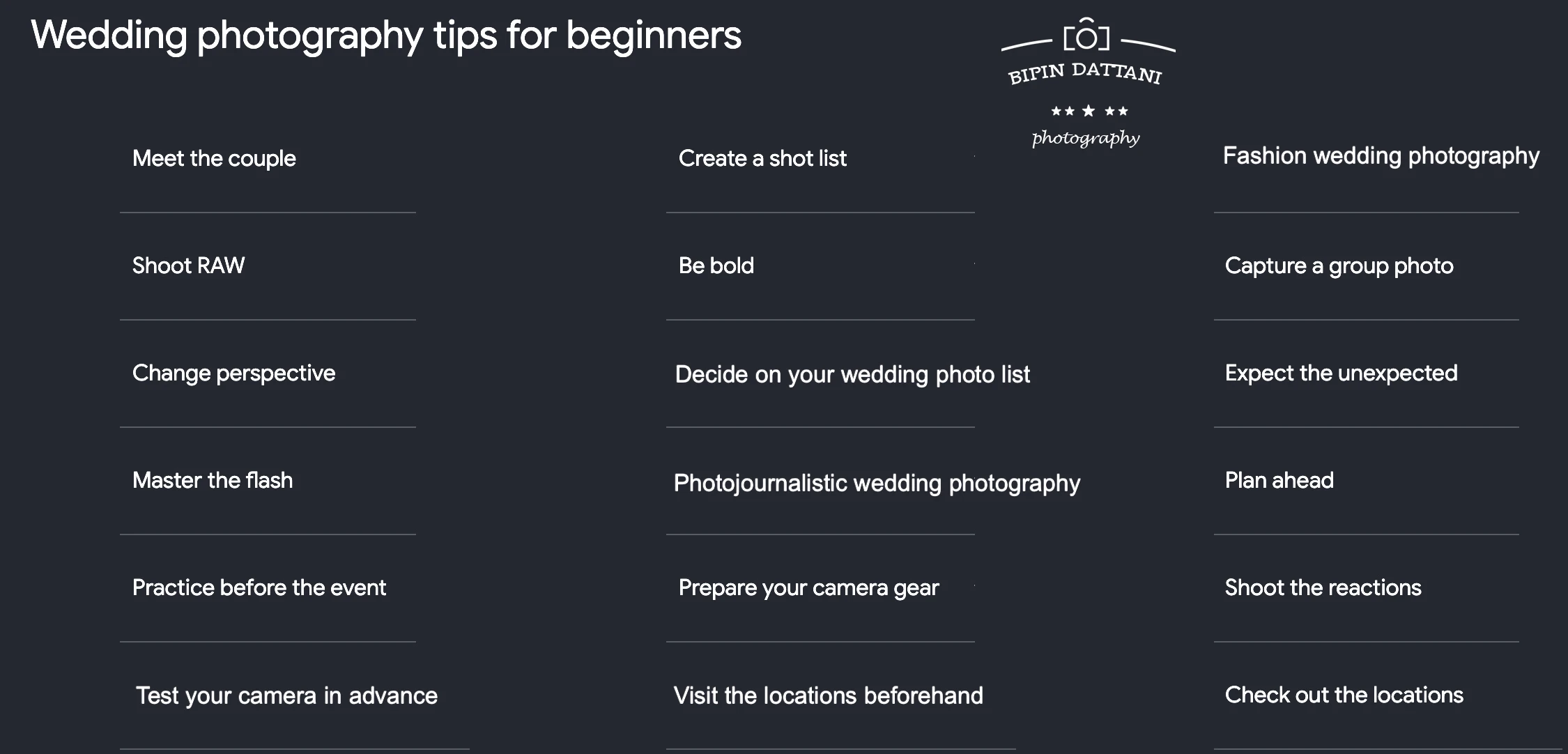 List of Hints and Tip For Wedding Photography Beginners
Meet the couple
Meet the couple and be honest with them.  Inform them you are an amateur or a beginner at photographing weddings. This sets the rules of expectations! You may be a novice or professional photographer, shooting weddings is a different ball game to landscape, fashion or studio portrait photography.
Check out the location and wedding venue
If a true professional photographer is not familiar with the wedding venue he will go to event area prior to the actual day or arrive early on the day to get a feel for the surrounding where the wedding is talking place. For a beginner I would suggest that you check out the place at the very same time of day as the wedding ceremony is talking place. This will give you an understanding of the place, lighting conditions you are likely to encounter and will assist with prior preparation you need to make.
Make a list of shots.
Get the bride and groom to give you a list of their must have photos, limit them to 15-20 as you may not have time to all if they request hundreds. Yes, there are standard photos you need to capture from the wedding. You can search the internet for such a list. Also don't be afraid to make suggestions or tell the couple which of their ideas might not work, use your photography knowledge here. You do not want to make a promise you cannot keep.
Produce a list of creative photos you would like to try, why else would you take on a wedding assignment as a beginner if you were not confident in your photographic ability.
Preparation preparation preparation – the key for a success shoot
Great preparation is critical to an effective wedding event shoot. Make sure you have a schedule/itinerary from the couple of how they have planned the format of the wedding day. Make you one notes to help you on the day. Even pro wedding photographers will do this, so they know what to photograph and best angles to shoot from. For a complete novice I suggest you ask if you can participate in the practice session and take some shots to get a feel on what is going to happen at the actual wedding ceremony. You'll know where to be to capture any particular photo. Knowledge and practice will help you enormously.
Think about using an assistant if possible
This person can be a back up photographer or just someone who knows about the camera equipment and photography in general. You will find an assistant's help invaluable on the wedding day especially when the pressure and demands on you increases.
Use a second camera
Buy, hire or borrow a second body, you must have another camera with you. This is going to be your back up camera if things go wrong with your main digital camera.  For beginners my recommendation is to mount a longer lens (70-200mm) for more close-up photos, assuming you have a wide-angle (16-35mm) or standard zoom (24-70mm) on your main camera body. The lens needs to give you good quality sharp images. So, again you may need to buy, hire or borrow the second lens. 
Shoot in RAW Format
The main advantage with shooting in RAW format is it gives you the chance to make adjustments to images to compensate for poor lighting, exposure, adjust white balance / colour temperature, sharpness whilst post processing on the computer using software like Lightroom, Capture One Pro, DXO Optics Pro, Adobe Bridge or Canon's free raw convertor – Digital Photo Professional aka DPP. All this is done in a none destructive way so if you're unhappy with the adjustments, you can go back to the RAW file and change the settings again. All in all when using RAW you get a much higher quality image.
Experienced Wedding Photographer's Tips
Preparations Before the Big Day
Before the wedding day, there are several preparations you as a wedding photographer need to make:
Get to Know Your Couple
Take the time to get to know the couple. Understand their personalities, preferences, and what they want from their wedding album. Establishing a personal connection can lead to more natural and candid shots on the big day.
Learn About the Venue
Familiarise yourself with the wedding venue. Knowing the lighting conditions and the best angles for different shots can be a game-changer for your photography.
Have a Shot List Ready
Prepare a shot list that outlines the key moments and people you need to capture during the wedding day. This list can be your guiding light, ensuring you don't miss any essential photos.
Gather Necessary Equipment & Supplies
Double-check your camera gear and make sure you have enough memory cards, spare batteries, and lighting equipment. Common mistakes include not having backup gear, so be sure you're ready for anything.
Prepare Yourself Mentally & Physically
Wedding days can be long and tiring, so make sure you are physically and mentally prepared. Stay hydrated and well-rested to give your best to the couple.
During the Big Day
Once the wedding day arrives, it's essential to be well-prepared and adaptable:
Use Natural Lighting Whenever Possible
Whenever possible, make use of natural light. It can create stunning, softly lit photos that highlight the beauty of the wedding ceremony and the couple.
Capture Candid Moments & Special Details
Don't forget to capture candid moments and special details. These are the shots that truly encapsulate the emotions of the day.
Work with the Bridal Party for Group Shots
Coordinate with the bridal party for group shots. Organise everyone efficiently and ensure you capture family shots flawlessly.
Take Family Photos & Bridal Portraits
Family photos and bridal portraits are essential. These are the special moment images that will be cherished for generations.
Manage Your Time Efficiently
Time management is key. Make sure you stick to the schedule and have a plan for different segments of the day.
After the Big Day
Once the wedding day is over, a professional photographers work isn't finished. Post-processing and creating the final wedding album are crucial:
As you go through the editing process, make necessary adjustments to exposure and lighting conditions. This is where your skills as a photographer come into play.
Deliver your work in a timely manner. Couples are eager to see their wedding photos, and punctuality is appreciated.
Creating a stunning wedding album is an art in itself. Select the best images and curate a collection that tells the story of the day.
Consider offering engagement photo sessions as part of your wedding photography business. This can provide a fresh perspective and help you connect with the couple before the actual wedding.
Finally, don't forget to enjoy the journey of capturing the magical moments of a wedding day. Wedding photography is about more than just taking pictures; it's about creating lasting memories for a happy couple.
Frequently Asked Questions
1. How can I avoid common mistakes in wedding photography?
To avoid common mistakes, ensure you have backup equipment, plan ahead, and communicate with the couple. Being well-prepared is the key to success.
2. What are some creative lighting techniques for wedding photography?
Creative lighting techniques such as using bounce flash can enhance the quality of your wedding photos. Experiment with different light sources approaches to find that work best for each unique situation.
3. What should I do if I want to start a career in wedding photography?
Starting a career in wedding photography requires building a portfolio, marketing yourself, and investing in quality equipment. Building relationships with other professionals in the industry can also be a valuable step.
4. How do I capture candid moments during a wedding shoot?
To capture candid photos, be discreet and observant. Anticipate moments and be ready to take quick shots. Building a rapport with the couple and guests can also lead to more natural and candid expressions.
5. What are the key moments to capture during a wedding ceremony?
Key moments to capture during a wedding ceremony include the exchange of vows, the first kiss, and the ring exchange. Additionally, moments of emotion and interaction between the couple and their loved ones are equally important.
Wedding Photography – Great Tips and Ideas for Beginners Conclusion
The wedding photography industry is a niche market, beginners have the opportunity to shine. With the correct preparation, equipment, and techniques, you can capture the beautiful moments that couples will cherish. Remember, it's not just about taking pictures; it's about telling a love story. So, embrace the art, master your craft, and create those unforgettable memories.
Remember, never stop learning. As you encounter different venues, beach weddings, and whatever situation a destination wedding brings. 
Even today, I keep learning by attending courses to keep improving myself. The key is to shoot wedding photography until you become a natural and enjoy photographing weddings.
Bipin Dattani Photography
28 Hillview Rd
Pinner
HA5 4PA
07930 324833